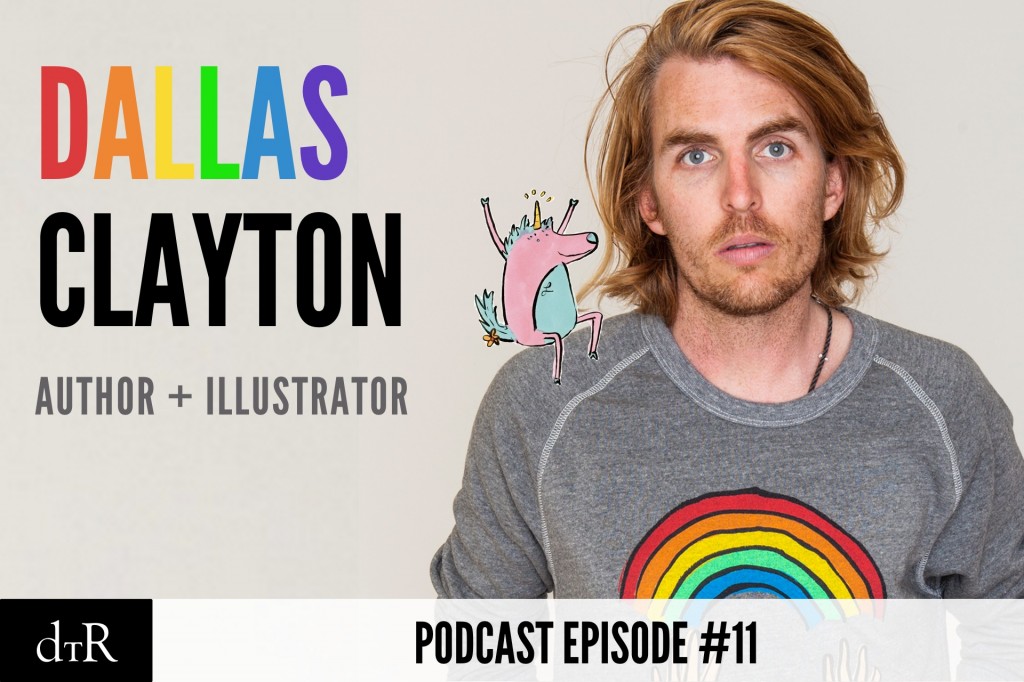 WHO?
Dallas Clayton is an author and illustrator who brings an incredible sense of joy, wonder, possibility, and adventure with him wherever he goes. The way I like to describe him is a mashup of Dr. Seuss and John Lennon. He works with brightly colored visuals and strong thematic ideas cleverly disguised in words.
His Do-It-Yourself ethic lead him to self publish An Awesome Book in 2009,  and once the internet grabbed a hold of it, it did not let go. He began to ship the book worldwide out of his livingroom and then piled into a van with some friends to challenge the idea of what a book tour could be. He now tours the world world reading to kids and collaborating on murals and showing them what it means to dream big.
He has since published a host of books, including An Awesome Book Of Thanks and An Awesome Book Of Love, and been able to work with a variety of publishers like Amazon and HarperCollins. In 2012 the story of his success was featured in an ad campaign for Google Chrome.
One of the things that I love about him is that early on in his journey he started the non-profit Awesome World Foundation to give away books and promote literacy.
His latest creation is Lily The Unicorn who is being developed as a television show.
I was first introduced to his creations through the short film for An Awesome Book Of Love. You can see the result below and I am sure you will find it as inspiring and moving as I did.
I am really excited to have Dallas on the Podcast for two reasons.
His path has been one of exploration, experimentation, and a strong sense of questioning what is possible for himself and children of all ages everywhere.
To paraphrase his own words, because he is taking something that makes him happy and using it to make other people happy.

IN THIS EPISODE:
How growing up in the DIY culture shaped his world view
When he knew what he wanted to do for the rest of his life
How dreaming about a magical marshmallow machine and college can be the same thing
The author who is a beacon in his life
How he taught his son about chores by paying him to learn songs
What he has learned by working with different publishers
Why he loves people who play the unpopular instrument
DISCOVERY QUOTE:
"Be grateful for the things that you have on the way to achieving those dreams"  – click to tweet!
CONNECT WITH DALLAS:
DALLASCLAYTON.COM |  INSTAGRAM | TWITTER  | AMAZON
DISCOVER MORE:


PLEASE SUBSCRIBE AND REVIEW:
Discover The Road can be delivered to your device of choice whenever a new episode is released.
   
And if you are enjoying the show please do me a huge favor and leave an honest review on iTunes. Reviews help the show grow and allow the stories to reach more people. Leave A Review Here.