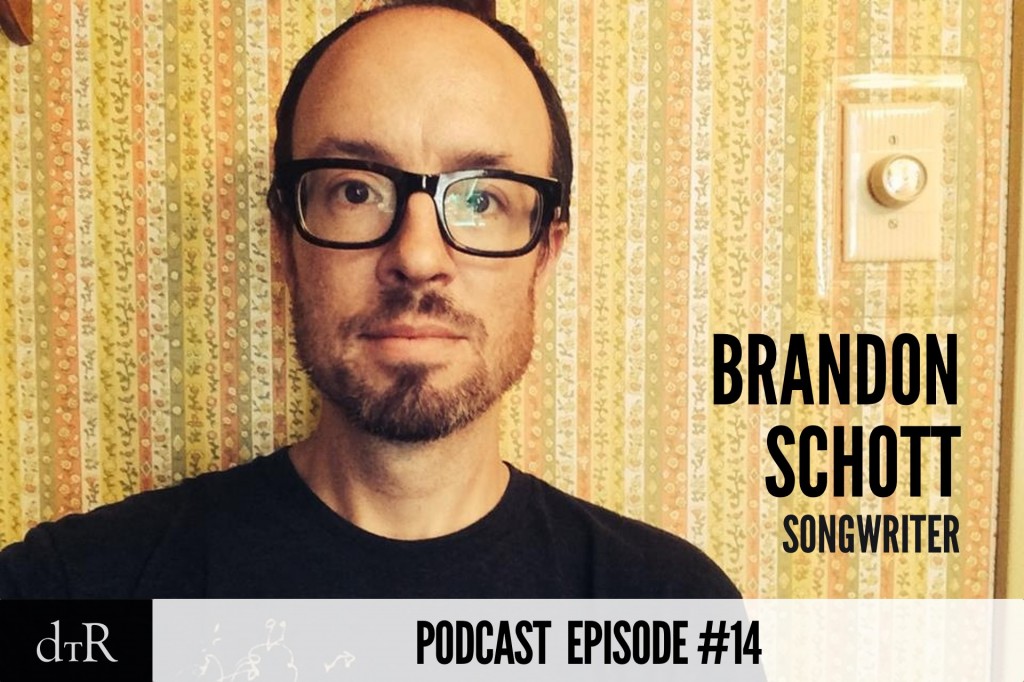 WHO?
Brandon Schott is a musician and songwriter who has seen his share of challenges and triumphs and yet through it all he finds a way to retain a deep and abiding love for what a song can mean for the soul. From the inspiration of fatherhood to the shadow of cancer, he has consistently turned to music to express his experiences.
Over the last decade he has produced 4 records and is now readying his new EP, Verdugo Park, for release on October 7th, as well as a forthcoming full length for 2015. He has hosted his own show about songwriting called Defying Gravity and founded the non-profit Artists For Healing. The creative juices are constantly flowing and in everything he does honesty, compassion and authenticity seem to shine through effortlessly.
One of my favorite moments in the show is when Brandon talks about how he imagines mixtapes while he meditates and then puts them together later to see if they hold up (spoiler….they seem to). This is a sure sign of someone who has a huge catalog of songs running around their head.
I am really excited to have Brandon on the Podcast for two reasons.
His journey of surviving cancer has been an inspiration for me ever since we sat down and spoke about it earlier this summer.
He continues to cultivate a sense of joy and wonder about the art of songwriting that is unlike anyone else I know.


IN THIS EPISODE:
Growing up in England as the son of two Air Force parents
Meeting the love of his life in High School
Why he decided to move to Los Angeles
What it was like to learn he had cancer and become a survivor
Why he only shaved half of his head
The woman that saved his life (and he doesn't even know her name)
Who his favorite songwriters are what he loves about them
DISCOVERY QUOTE:
"It's not mine to keep, it's only mine to borrow for as long as I need it, and if I don't need it anymore, then I should share it. " [Tweet This]
CONNECT WITH BRANDON:
FACEBOOK | TWITTER | YOUTUBE | BRANDONSCHOTT.COM
DISCOVER MORE:
Brandon on Soundcloud
MENTIONED IN THIS EPISODE:
Songwriters:
Books:
PLEASE SUBSCRIBE AND REVIEW:
Discover The Road can be delivered to your device of choice whenever a new episode is released.
   
And if you are enjoying the show please do me a huge favor and leave an honest review on iTunes. Reviews help the show grow and allow the stories to reach more people. Leave A Review Here.