SELF TALK
We all do it. Most of us can't remember a time when we didn't. We all give ourselves pep talks and try to use the best possible words to convince our bodies and our minds to do the things that we know we need to do.
BUT THE MOST COMMON SELF TALK WE HAVE ALL BEEN TAUGHT MIGHT BE WRONG
Imagine you are the little engine that could, and you are facing some very difficult challenge, say a mountain, and you need one of your own personal pep talks.
Which one of these phrases would you use for you inner monologue?
I think I can.
I know I can.
Yes I can!
THE BEST ANSWER MAY TURN OUT TO BE NONE OF THE ABOVE
The reason I am thinking about this today is that I was helping my daughter with her reading and when she came to a word she didn't know she said: I can't do it.
Well, of course I broke out the the story of the little engine that could and told her to say: I think I can.
But right after I used the word think she proceeded to tell me that she had something better to say: I know I can.
And then from the other room my son broke in with the words that they use in his martial arts training: Yes I can!
But the problem is not with "think" or "know" or "Yes".
THE PROBLEM IS WITH THE WORD I
When many of us are facing an extremely difficult challenge, we actually don't use I. We switch from the first person (I) to the second person (You).
We say: You can do it.
Not: I can do it.
I first learned about this idea from a study published last month. You can see the write up here — How "You can do it!" Beats "I can do it".
And when I thought about it, the idea seems to have validity. At least for me. I know that I switch over to the second person when I am really pushing myself. But I am still stuck on passing down the old wisdom. But I can change. Err, I mean. You can change. (Already feeling better about this.)
So maybe we should be trying to use this more. Maybe the self talk we need is the not the kind that comes from within. Maybe the kind of talk that we need comes from just a little outside of within. Kind of like our own personal boxing coach, standing in the corner of our minds, telling us that we can do it.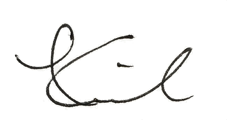 LIKE WHAT YOU READ? SIGN UP FOR THE FREE NEWSLETTER