If you are reading this or listening to this or watching a video of this message, then you already have the superpower in your possession.
Simply click the share or the recommend button, or tell a friend about this, or email a link to this post, and you are using your superpower.
Seems simplistic right?
But spreading an idea is not only a superpower, it is the most important superpower that we have as individuals.
THE MOST IMPORTANT SUPERPOWER YOU HAVE IS YOUR ABILITY TO CREATE CHANGE
Your ability to participate in the spreading of ideas is how you can change anything. It is what can change everything. But using this superpower is a choice. You have to choose what you pass on wisely. The same superpower in the wrong hands, with the wrong message, becomes a super villain.
YOU ALREADY HAVE EVERYTHING YOU NEED
Sure, you could add on a cape or an invisible jet or a beacon in the night. You could learn how to craft a great tweet or email to pass on this idea. (say your cape) Or maybe you are an amazing graphic designer who can turn this title into a graphic that everyone will share on Pinterest (say your invisible jet). Or maybe you are an influential speaker who can share this idea with a captive audience (say your beacon in the night). But your don't need any of these.
YOUR SUPERPOWER IS YOUR ABILITY TO SHARE AN IDEA WITH ONE PERSON
All you need to do is is share an idea with one other person. Text them. Pick up the phone and call them. This is how ideas maneuver. From person to person, one mind to the next.
Many of us make the mistake of thinking that we are telling a hundred people an idea if we send an email to a list or write a post like this one, but what we are really doing is sharing an idea with a hundred individuals, one person at a time.
So if you have an idea, or you are in love with an idea, share it. And witness your superpower in action.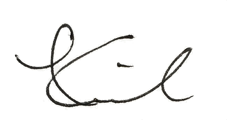 LIKE WHAT YOU READ? SIGN UP FOR THE FREE NEWSLETTER